In today's fast-paced and constantly evolving business world, companies must prioritise the personal growth of their employees. Here at Biz Group, we recognise that valuing and supporting the professional development of our employees not only helps us attract and retain top talent but also sets us up for long-term success.
As a result, one of our core values is Supporting People's Personal Growth. This comprises a focus on creating an employee led learning culture: One key aspect of this is a focus on always learning. The modern workplace requires employees to be adaptable and flexible, and the best way to foster these qualities is to create a culture of continuous learning. Encouraging employees to attend conferences, take online courses, or participate in workshops is how our team stays up-to-date with the latest trends and technologies.
We also encourage curiosity among our employees. A curious person is never content with the status quo and always seeks new challenges and learning opportunities. This mindset helps us to drive innovation and bring fresh perspectives on how and what we do. Here at Biz, we provide our employees with opportunities to explore new ideas and experiment with new approaches. This helps support them with their development goals while supporting the achievement of our strategic objectives.
The widespread adoption of technology has transformed the way we work, and it's essential for our people to be comfortable and confident using digital tools. Therefore, we embrace technology at Biz and encourage our team to focus on being digitally savvy. This includes lunchtime learning with our resident tech gurus, taking online courses, sharing "ahas" and attending tech-related events. All of these help the team build the skills they need to thrive in this digital age.
Supporting People's Personal Growth is a Cornerstone not just for how we treat our employees but as a guiding principle to how we support all our clients with their learning needs. Here's a Bizzer recounting her experience of how Biz Group provided her with study support to grow in her career.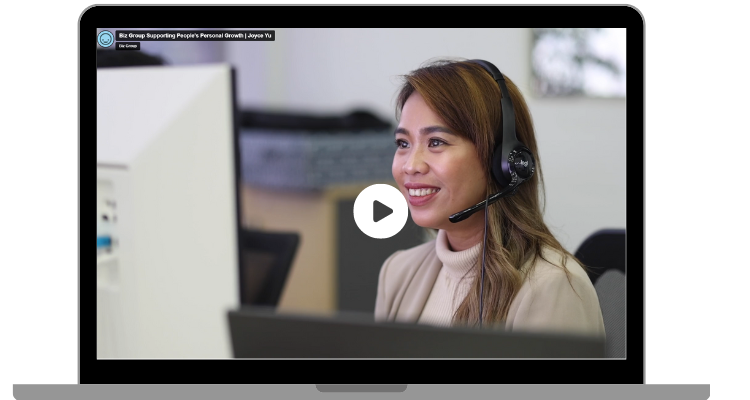 If you want to be a part of an amazing culture where people are valued and invested in, check out our current openings and share your details with us here.