The business world has changed dramatically over the last twenty years. The scale of the change has been monumental. Unprecedented even. The landscape has shifted dramatically and there is absolutely no doubt that this level of change will continue apace for the foreseeable future. Fluctuation is the new normal. It would be an understatement to say that it's a challenging environment, so what measures can businesses take in order to thrive in this demanding climate? Well, top of their list of priorities should certainly be ensuring that they have the right leaders in place, and that those leaders have all the necessary skills to flourish. How? That is what we intend to study and explain in this article.
The Rapidly Evolving Role of Leaders in the 21st Century
An organisation's leaders are, quite simply, essential to its success or failure. If the right leaders are in place, it is proven to increase productivity, reduce turnover (75% of employees who resign from their jobs list differences with their manager as the main reason), groom future leaders and ensure heightened employee engagement.
That's the importance of leaders confirmed then, but what of the skills required by successful leaders? They certainly need to be adaptable in these rapidly changing times. Communication is key. Excellent communication goes a long way to ensuring a leader can lead confidently through times of uncertainty. It is worth noting that the incredibly well-respected Global Industry Analyst, Josh Bersin, declared the following leadership skill as vital in his "What Makes a 21st Century Leader?" article:
Acknowledgement that they must always continue to learn. "Great leaders are learners".
He's right. Leaders should always be learning. Continually evolving to face the constantly changing demands of their role. Of vital importance in this constant development is the form that leadership training takes. Leadership training nowadays needs to be progressive, fluid, adaptable and realistic. Rigid, formulaic, 'textbook' training sessions are a thing of the past. The present and future belongs to virtual reality leadership training.
Virtual Reality Leadership Training Explained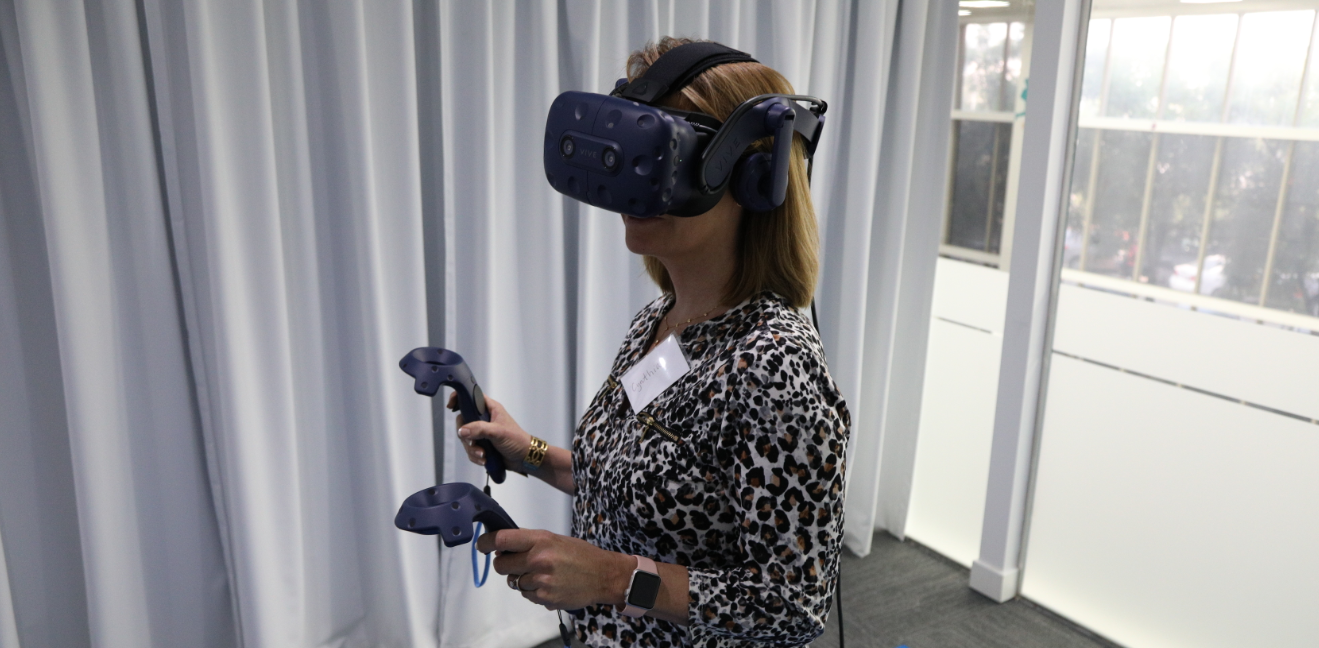 The benefits of virtual reality leadership training are significant in number. Here's but a few of the many:
Research shows that virtual reality training ensures its trainees retain far more of the information provided than they do from more traditional training methods.
Realistic scenarios. Virtual reality leadership training is designed (and constantly evolving) to provide the trainees with actual situations they will encounter in the workplace.
Virtual reality training environments are far less pressurised than traditional training environments. They are designed that way. Designed to be embarrassment-free, creative, problem-solving arenas.
Biz Group's virtual reality leadership training caters for all types of learners. Trainees from all the major learning groups – auditory, kinaesthetic way (carrying out physical activities) and visual – will benefit enormously. Put simply, virtual reality training has all the bases covered.
Virtual Reality Leadership Training – Who Provides These Innovative Services?

So you've decided that virtual reality leadership training is the way forward. You want to instigate the training for the leaders within your organisation as soon as possible, but not sure where best to start your search? Basically, your search should start and end with Biz Group and Jenson8. Why? Because Biz Group / Jenson8 are, without doubt, the region's experts in this field. Biz Group's training solutions provide development for aspiring future leaders, middle managers and executive leaders, helping you prepare them to lead your business into the future.
Biz Group's virtual reality leadership experience (in partnership with Jenson8) will allow your company's leaders to work together in a virtual world to solve challenges where collaboration, experimentation and agility produce results. This is innovative, cutting edge and, most importantly, extremely effective.
Further cementing themselves as the region's leading virtual training and digital learning provider, Biz Group are immensely proud to announce the Middle East's first multiplayer Virtual Reality Leadership Lab in partnership with Jenson8. This truly ground-breaking lab will be opening on 19th September 2019….and you can find out more here.
Sources:
https://bizgroup.learningwithbiz.com/virtual-reality-leadership-lab-sign-up
https://www.linkedin.com/pulse/20121016203118-131079-what-makes-a-great-21st-century-leader/
https://www.litmos.com/blog/articles/impact-importance-leadership-training
https://www.hrdive.com/news/why-quality-leaders-are-critical-when-seeking-top-talent/416800/
https://www.lsbf.org.uk/blog/opinion-features/why-leadership-development-is-important