Virtual Learning is not a new concept. It has been around for a long time and has grown in popularity over the past decade with corporate e-learning increasing by a whopping 900% between 2001 and 2017 (Source: eLearning Industry) and approximately 77% of US corporations using online learning in 2017 and 98% planning to incorporate it in their program by 2020. (Source: eLearning Industry, Small Business Trends).
In 2020, as we all know, the COVID-19 global pandemic has required governments, education institutions and companies to work together to contain the COVID-19 virus, with imposed precautionary social distancing measures including cancelling all instructor-led classroom learning and implementing remote working solutions.
This has changed the status and perception of virtual learning from 'a nice to have' to a 'must have' to not only keep employees learning, but also to keep them engaged to the brand and to their personal development trajectory.
Most companies are converting their planned training activities to Virtual Instructor-Led Training (VILT). But what is Virtual Instructor Led Training?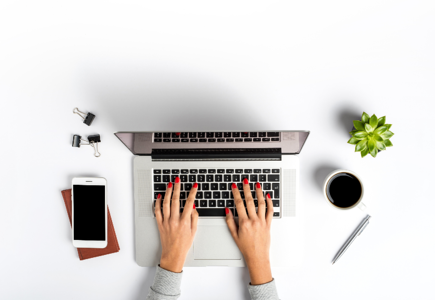 It is an approach that allows for live interaction between the facilitator and the learners as they participate in learning activities in a live and virtual online training room.
Learning content is specifically designed for Virtual Instructor-Led Workshops
Sessions are typically 90 – 120 mins in duration in a shared live virtual training room online, and all sessions are conducted at agreed times.
Participants require a computer with internet connection, microphone and headset.
What are the benefits of Virtual Instructor Led Training?
1) Reduced travel costs
As VILT is completely online based, you can immediately eliminate or lessen travel and lodging costs. Learners can choose where they learn from, they just need to ensure to be able to access the live session when it's scheduled for!
2) Modular design
Another benefit of VILT programs are that they offer training content in shorter, incremental modules that can be completed independently or alongside other priorities which is appealing to busy professionals who may have other work deadlines.
3) Allows for multiple sessions in one day
Although VILT can only accommodate for up to 25 professionals at a time, it can be used to manage multiply sessions in one day so all learners get the chance to experience at different times, depending on when the facilitator is available.
4) Increased engagement
Because of the reach that VILT provides, students and instructors from a variety of cultures and geographic backgrounds can participate at the same time. It even helps with engagement rates, according to the Training Magazine, 86 percent of virtual classroom participants rated the experience "just as engaging" or "more engaging than" traditional classroom training.
5) Trackable learner performance
Using VILT, you can track user's performance by using built in analytics within tools, direct questions, engagement techniques, or a combination of all three. Real-time assessments are also possible by conducting role plays, asking questions, and conducting polls. Using VILT, it is easier to track learner's performance and provide instant feedback.
So with those benefits in mind, it's no surprise that many organisations are turning to virtual learning for their employees. In summary, it offers the convenience of reaching learners wherever they are, and provides a consistent way to deliver content across all parts of the organisation with impact.
How to make sure your VILT lives up to its classroom equivalent
Make sure you have invested in the following points:
1) The right technology
VILT is based on technology and you need to make sure the platform you use can create interactive and engaging experiences for your learners.
2) Content
The design of VILT programs requires a different approach than classroom or online asynchronous programs. To capture learners' interest and promote retention, VILT must be designed around a comprehensive learning strategy. Visuals and interaction are paramount to promoting engagement and increasing training effectiveness.
3) Delivery
Facilitators, whether trained instructors or subject matter experts, must be skilled, certified and practiced in.
In conclusion…
The abrupt necessity to shift to virtual work and learning solutions has not been an easy transition but it is one from which we need to reflect and draw some important lessons.
The first lesson being that when used and leveraged effectively, technology can replace the effectiveness of face to face communication and the second one being that good leadership/teamwork/training is not about monitoring activity and schedules but rather about coaching performance and monitoring output.
Looking to experience VILT for yourself?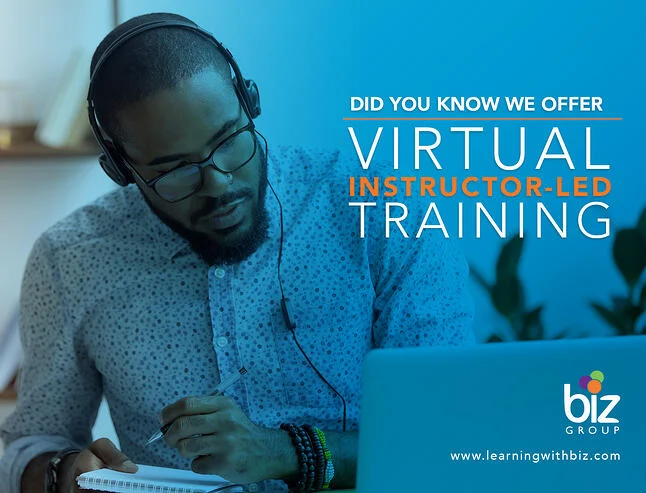 If you're interested in experiencing a VILT demo, please register your interest for a free live demonstration with a Biz Group Senior Learning Consultant using the button below:
Keep learning!
Biz Group