The latest instalment in our Virtual Trends series, MS VIVA at 50,000 ft, was all about improving the Employee Experience. The Hybrid Work Paradox demands rethinking the operating model for every organisation. Fostering a culture of human connection, purpose, growth, wellbeing, and results is critical for the modern workplace and to help organisations grow amid the dynamic changes of the market.
Microsoft recently launched their new VIVA suite that gives organisations an integrated EXP, bringing together communications, knowledge, learning, resources, and insights into the flow of work. VIVA ensures every employee is connected to their organisation's culture, personal productivity insights, expert knowledge, and key learning resources as a single solution.
The session was led by our CEO, Hazel Jackson, and attended by our community of L&D and HR professionals. We had the privilege of hosting Ajay Chauhan, MD and founder of Proventeq MEA. Ajay is one of the few Modern Workplace Architects based in Dubai with over 25 years of experience with the Microsoft Productivity Stack. Starting with SharePoint back in 2022, he has successfully supported 70 Employee Engagement projects. Ajay has delivered training and coaching to a global audience, and spends significant time driving user adoption and is a leading expert on the recently released Microsoft Employee Experience VIVA suite in the ME region. He understands both the technical perspective and the user experience, so he speaks a language we can all understand.
The event was a great success, and Ajay spent the morning educating us about the recently released Microsoft Employee Experience VIVA suite.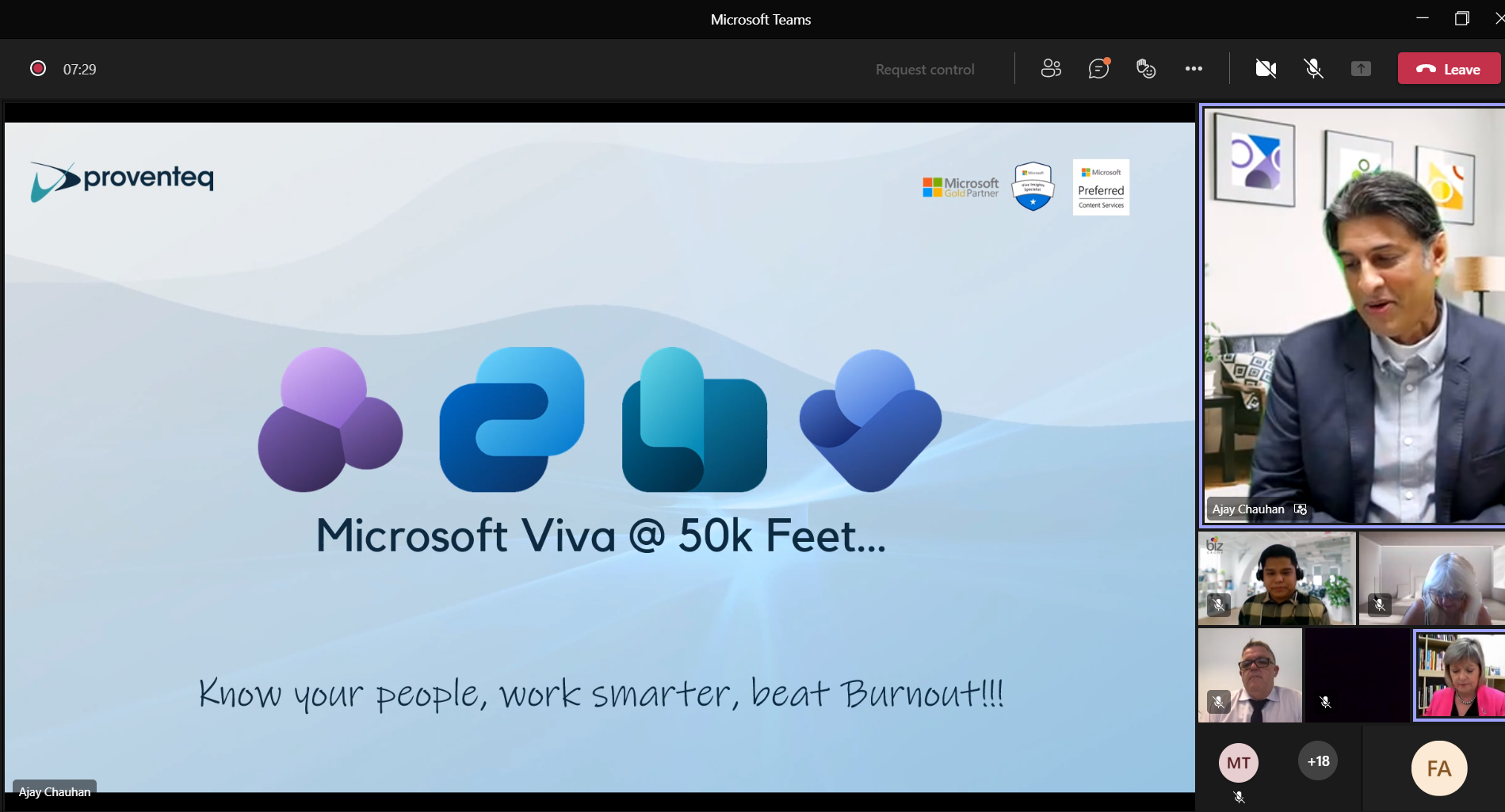 Learning in the Flow of Work
Some applications are in their early stages, while others are more advanced. What is truly amazing is that the data and tools could be available to you in the flow of work, as our teams and we spend so much time on MS Teams already. With MS VIVA, questions like "Where are the silos in my organisation"?, "Why is X's Team so much more productive than Y's" may suddenly be a matter of clicks rather than drawn-out surveys and analysis.
MS VIVA Applications
Here are the MS VIVA applications that we discussed during the session.
1. VIVA Connections
VIVA Connections is a curated, company-branded experience that simplifies communications. The individually tailored feed keeps everyone informed about the organisation's happenings. The feed includes contributions from the employees, making communication easier and personalised.
2. VIVA Insights
As the companies are returning to the office and grappling with the Hybrid Work Paradox, employee wellbeing is at the forefront of ensuring a great working culture. VIVA Insights helps to build better work habits, track and improve the effectiveness of the meetings, and helps prioritise wellbeing with actionable recommendations. Guided mediation from Headspace, Virtual Commute, Protect time, Daily Briefing etc., helps employees balance productivity and wellbeing.
From a manager and team leads perspective, VIVA Insights helps monitor productivity and manage and avoid burnout.
3. VIVA Topics
VIVA topics users AI to surface knowledge and expertise in everyday apps such as Teams, SharePoint, Yammer & Outlook. It curates relevant information in the form of a topic card and topic card page in a Wikipedia style, allowing employees to access helpful information quickly and easily.
4. VIVA Learning 
VIVA Learning provides interest-based personalisation and aggregates courses from Microsoft. Linkedin Learning and Internal and 3rd party vendors. It has integration with LMS and allows Learning in the Flow of Work. Recommended Learning and Learning Paths make the experience highly personalised and relevant.
The session has undoubtedly led to additional questions and a need for individual workshops on each MS VIVA topic. On popular demand from the attendees, we will be hosting workshops on the MS VIVA topics in the months to come.
Keep watching this space for more details.